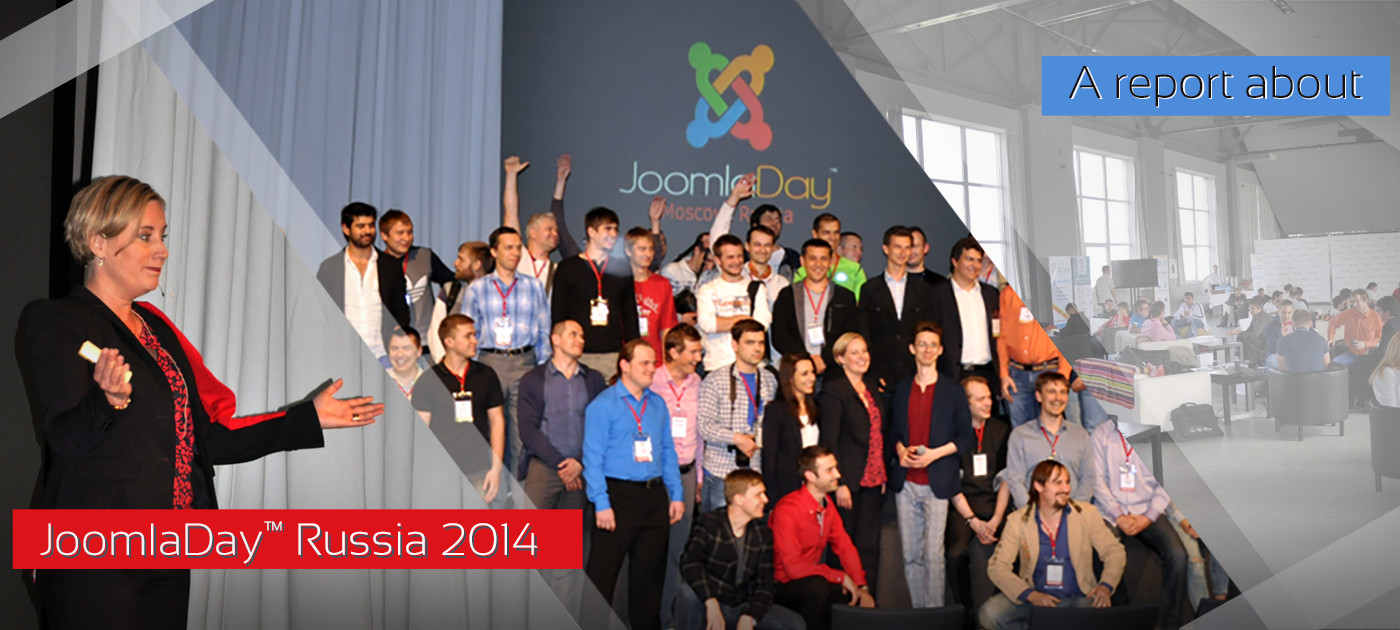 Full report from JoomlaDay Russia 2014
Joomla is a small family.
The first official JoomlaDay™ Russia 2014 took place on 6th of June in Moscow and became the landmark event for Russian community. Here I'd like to share how it went.
Upon the arrival to Moscow after I settled in the city center (The Old Arbat area) I could finally enjoy all the beauty of the capital. I should note that "Da!" Hostel was very cozy and strongly resembled the anti-cafe. I was amazed by the center of Moscow, its beauty and grooming. I would say it was cool wandering around the downtown and enjoying the views. The day has passed by this exercise.
A Morning that presages a good day
Well, the morning came and it was a time to go to JoomlaDay. The business center where the conference took place was located in convenient transport accessibility, in 200 m. from underground station. "Svobodnoe Plavanie" conference hall was located on 5th floor and was an ideal place for conducting IT-conferences and co-working - there were several spacious halls, separated hall with projector, also coffee with buns and special entourage. The Business Centre has three spacious halls: first one for organization procedure, second one - the place for co-working and discussion (with soft sofas) and mini-buffet with coffee and buns and there is third separated hall with more than 100 seats and huge projector on the wall.
It should be noted that all of confirmed lectors came at the event which showed participants' high motivation.
The morning has started from correspondence meeting, discussion of latest news, hot coffee and Net surfing (hopefully there was Wi-Fi). People slowly started arriving and amount of IT-brethren started growing. Everyone was awaiting for the official opening.
Official opening of JoomlaDay
Well, the time has come. Guests were invited to the third hall and take seats. Visitors prepared to listen. The opening ceremony started from Artem Lebsak's welcome speech. Here is he comes on the stage, take a microphone and started to speak. There was such atmosphere in the hall that can be only at the moment of important events and now the historical moment being accomplished: all active members of Russian community met. Such event went for the first time and created a cause of certain resonance. Besides of having foreign representatives presented there, understanding of the fact that this event will go down in history and the quality of meetings will influence on community's reputation, those all factors caused some excitements like to those when you receive a diploma. Therefore, even though I was not an organizer, I felt kind of excitement of the feeling of solidarity - how the speech shall be, would not it be interference, is all be okay with sound, etc… After Artem's speech the microphone was taken by Alexey Shishkin (joomla.ru founder). They both kept naturally minting every word and their honed gestures pointed to the fact that these people were in their environment and there were no more reason to worry. After the welcome speeches of two oldest Russian Joomla representatives, Sarah Watz the new president of OSM (from April 2014) came to the stage.
It should be noted that it was her first visit to JoomlaDay event as a president. Sarah has prepared 30-min. presentation where she spoke about herself, her family, how she came to Joomla. Further she introduced the audience with the ideology of Joomla and her own vision of the community development. And you know what? All those family photos, the story about company where Sarah have been working, home environment as well as the style of speech, made me and I am sure the audience feel that Joomla is a small family. It was really so cool!
Next speaker was second guest from abroad - Gev Balyan from Bang2Joom and CorePHP company. Gev shared his experience how to create websites based on Joomla for corporate sector. What questions should you ask your customer? How to build the development process? All these things and even more were covered within his report.
Special thanks to Anastasiya Gabidullina for her dedicated work as interpreter - with her help event visitors could get acquainted with reports of Sarah and Gev in Russian language and could ask questions.
Later there were other speakers and their reports, about what I'll selectively tell below.
Subjects of reports at JoomlaDay
Reports on JoomlaDay Russia in general are focused on the following topics:
Work with corporate sector and methods of new clients attraction.
e-Commerce and increasing the sales conversion.
Site security.
Organization of membership and paid access.
Social networks and user data management.
Mobile devices and template development.
Site optimization and speed-up.
And, of course, SEO. How is without it?
Alex Kurteev (known in Russia as an author of series of video lessons about Joomla) talked about how effectively organize paid access and membership on website using Emerald component by MintJoomla. It is perfectly continued with Vasily Asmuz's speech who conducted a tour of the Cobalt CCK (both Emerald and Cobalt extensions made by the same company) and told us which things are possible to release through this CCK. A video with Sergey Romanov from MintJoomla was demonstrated where he's addressed the audience in such a unique manner, that you would want to wear a tie, jacket and dig into Cobalt manuals, imagining yourself as a boss of the business center, haha!
Dmitry Lukyan presented Ksenmart - the new promising e-commerce component for Joomla. Shocking performance, skillful communication with the public combined with a really awesome opportunity have demonstrated how it is easy to build an e-commerce site using Ksenmart, how it is easy to manage catalogue items and its attributes though good UI and most importantly which result you'll get: Bootstrap based template, product filter by default, great component efficiency and loading speed. Ksenmart took such live interest, so 1/4 of auditory didn't leave 3rd hall to go on lunch but surrounded the developer and to ask him questions.
Vadim Kunitsyn from JoomLine spoke about social authorization advantages and showed the component made in their studio. SLogin extension may organize logging-in the site through social network account. That's quite relevant topic in the age where mobile technologies and socialization became an integral part of our lives. The next report was dedicated on how to make website mobile friendly and Denis Ryabov - the MobileJoomla lead developer told us how to do it in details.
I should also mention Seblod component (JooomlaDay Golden Sponsor) that was introduced by Vio Cassel. It was a nice invention for me since this software solution goes beyond the standard CCK and is extension builder based on Joomla. In fact, with the help of this product you can create almost anything, but Joomla is just a peanuts. Without a doubt this is a revolutionary solution which should be promoted to the masses, needed to write about it and to acquaint the public with a truly enormous opportunities that Seblod offers, while site developer still use Joomla.
Your humble servant (me, Eugene Sivokon) representing RoundTheme club had addressed the audience with two reports. First report was about subscription and paid access to the site with PayPlans and second report was dedicated to website speed-up, optimization and performance.
Mentioned above Alexey Shishkin presented two reports about effective building processes of team work and how to attract new customers and making sites for corporate sector working on large projects. The reports were very interesting since most part of visitors was developers and success with clients for whom is really a key for further work.
There were some other reports about site security. Vitaly Kulikov told us how to turn your Joomla website into a secure fortress and shared methods that can do some actions for attacker. (i.e. display a message about responsibility for hacking and reference on Law). I have to admit this is very interesting approach since it's kind of psychological effect on person who's attempting to attack the site.
JoomlaDay outside of program: new contacts and communication
JoomlaDay program was divided on several parts, so breaks between parts allowed visitors to breath, dine and socialize with each other as well as ask questions to those who's already presented their topics.
I can not go away from describing the gastronomic delights: the organizers took care of the business lunch, which was very nice and tasty. Closer to 5-6 pm when most of the reports was presented, organizers made another break which was perfectly in time - the overall fatigue was felt. People went to co-working hall and sat down on sofas. At that point, there were appeared charming young girls who treated everyone with energetic drink RedBull which was so nice from organizers' side - they took care about people and previously provided tired people's needs. Desirous persons may also take a bottle of beer or even pour wine (a celebratory banquet after the event), but such drinks did not stay long and your humble servant missed the beer. From the other hand I went with the wine :-)
Which JoomlaDay may miss competitions? After interesting reports it's time to go into active part of the event. To get a prize the best dance competition was arranged. The result you may see at this video ;-)
Conclusion
The informal part of the meeting allowed visitors to communicate with other colleagues and make new acquaintances. People laughed, discussed various issues and it was nice to see the happy faces. I can say with confidence that the event actually organized on a very high level. Good sound & staff, professional video shooting, spacious rooms, lunch and a friendly atmosphere - the factors who form the positive view of the event.
I would like to express my gratitude to JoomlaDay Russia 2014 organizers - to Artem Lebsak and Anastasia Belostotskaya for making this event and support the CMS Joomla in Russia.
Joomla is experiencing an increase in Russia and I can only say one thing: everything is just beginning.
Photo by Oxana Lukyan
Video by Valery Sokolov
Useful links: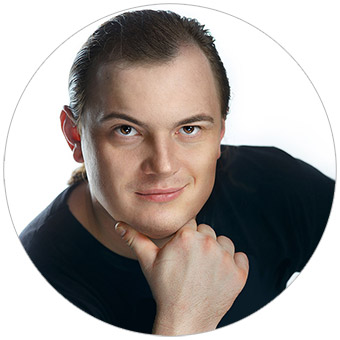 About author
Eugene has been a part of and worked in many of the web development roles over the years, taking on various projects. At the present moment, he is involved as a team manager working inside his personal projects. This blog is specifically dedicated to start-up businesses, team management, and how to maximize your success with Open Source ideology.