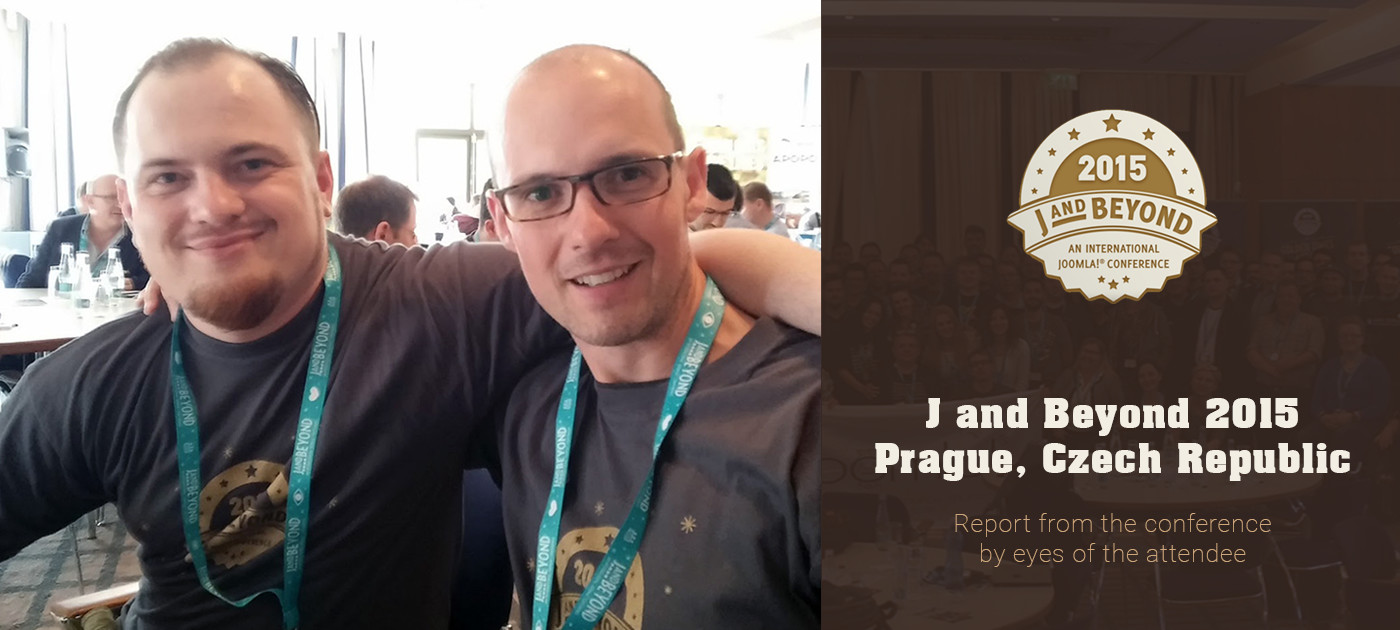 Report from J and Beyond 2015 conference. Prague, Czech republic
As it is known, J and Beyond is the biggest international event for Joomla developers that unites community members from all the world. This year it was held in Prague, Czech Republic and had 224 attendees from 34 countries including different continents. Three days conference was held in respectable Dorint Don Giovanni Hotel. Dmitry Rekun and your humble servant had the honour to attend this wonderful event.
During the 5 years J and Beyond conference traditionally was held in Germany or Netherlands. This year J&B celebrates 6th anniversary and for the first time it was held outside of these countries. An architectural jewel of Europe was picked out as a new horizon - it's Prague, the capital of Czech Republic.
Preparation to the trip
I decided to take a moment and plan my trip to stay in Prague a few extra days before and after the conference, plus to walk through Vienna as a bonus. Personal planning of the travel is always seems to be something incredible, since you need to do a lot of things that seem for the first time extremely complex starting from the moment of "I want to be there!" and ending with the passport control at the airport. Booking a hotel, getting insurance, making decision on flight, buying a flight ticket, preparation of documents to the consulate and, finally, getting visa in hands - all these things are difficult only for the first time. After getting such a valuable experience of planning the personal travel, the next time you'll travel everywhere you want, it's limited only with ambitions and your financial capacity. But let's back to my trip. Direct flights from Krasnodar to Prague exist, but I wasn't satisfied with their price (too expensive) or departure time (at weekends). Thereby, the most part of my time I spent on planning the flight since I had to choose the right date and optimal time interval, as well as keep in mind travel time and final cost. Finally, my choice was Austrian Airlines flight with a transfer in Vienna. A little less complicated but more anxious things were with Schengen visa since I had to prepare various documents and since embassy of Czech Republic is located in 1500 km far away of my location, it was impossible to get visa personally from hands of Mr./Mrs.Consul. :-) Fortunately, there is a Visa Centre in my city that officially works with embassy of various European countries which is an ideal solution. Less than two weeks have passed and I got passport with fresh visa. Next step is the collection of important and useful information. Addresses, maps, how to use public transport, etc. I never rely on smartphone only, especially if the device has the ability to getting discharged quickly), so the first thing I prepared all the addresses and printed all required travel information on paper. Well, all preparations have been done and it remains to wait a long-awaited date of departure.
On the eve of the conference
I arrived in Prague at the evening in two days before the conference has to be started. After hotel accommodation I decided not to leave the hotel and just to relax and gather strength since later it was needed. The next day a transfer to Dorint Hotel Don Giovanni was coming where the conference must be held. The hotel impressed my imagination with its architecture and grandeur. Just take a look at the picture:

I met Dmitry Rekun on the reception then quickly accommodated in the room and we went to see the hotel and meet arriving Joomla activists. Gathered in a fun international company with people from Russia, Latvia, USA, Netherlands and Germany, we moved into the city Centre to get acquainted with the local gastronomy. Since for me this is the 4th visit to Prague, with an expert's look I led the company to the traditional pub called U Fleků, where the beer is brewed during 500 years (established in 1499 year). I must notice we had a great evening, enjoyed traditional Czech cuisine, and of course, tasted original beer of the pub.
I promised the people they can get a huge portion of Roasted pork knuckle (Pečené vepřové koleno) that should be eaten by three persons (1 kg), but I didn't count that restaurants and pubs have different portions of the dish and we have got lesser dish that was expected, but despite of this it was really enough. Tired and happy we went back to the hotel, because the next day is promised to be very interesting.
Infrastructure of the conference
Before I will start to describe the each day, I should write a few words about the infrastructure of the conference. J and Beyond took a huge three floors. Zero floor or hall is a place to have a fun and get breakfast as well as a bar that takes a crowd of people at the evening.
On the ground floor the stands of sponsors were located; whose representatives willingly introduced their products and services to anyone interested. Also there were four rooms where speakers appeared at the same time, so visitors could take the subject they're interested in and took a place in auditory. Every person could take the advantage of a break buffet and pour a tea / coffee or a soft drink.
The second floor has a conference room with round tables; all visitors could take a free place and communicate with each other. Also the general activities and keynote were held here, thereby meeting hall played a major role at the conference. At the evening wonderful dinner was served here and open terrace was giving the opportunity to get some fresh air.

The first day
After the breakfast, we proceeded to the conference room for the opening of J & Beyond 2015. Here is Brian Teeman, here are lot of familiar faces. Robert Deutz kept the speech; he welcomed all participants and shortly described what kind of program we'll get during three days. In such moments the perception of reality changes and becomes bright as all that is happening for the first time (but it was my first visit at J&B). With a fainting heart I perceived the information. The next speaker was Christian Heilmann, whose performance was appreciated by the audience, I guess. Christian told about the importance of fast loading speed of the website on mobile devices and told about usability and psychology of site's visitors. The accessibility of mobile version increases customer loyalty and save the money. That was an interesting presentation.
As soon as the main presentations (keynotes) in the conference room were finished, it was time to give the word to other speakers whose sessions were held simultaneously in four rooms. For obvious reasons, I cannot evaluate all the reports, because I was in one of 4 rooms. I must note that I was impressed with Matias Greise's presentation called "Gantry 5. A new Dawn for Theming" since within our template club we're going to move to this excellent framework and it was a chance to talk with framework developer in real time.
Soon Rafael Dohms took a word at keynote "A Journey into your Lizard Brain". He spoke how to implement programming skills and our mind abilities for analysis and getting optimal solution for issues. During all the time of the presentation Rafael has repeatedly highlighted the important role that his wife is playing in his life, how he supported her in this difficult time and to be honest, it looked as a real gentleman's act. I really liked it.
Then the highlight of the day was started - J.O.S.C.A.R. and J-Factor as "Joomla's got Talent" competition. It is a really nice way that could vary the program, to reward Joomlers for their outstanding contribution to Joomla Project and give the opportunity to discover their creative potential and, ultimately, to rally the community by making people more closer to each other. Brian Teeman introduced participants and J.O.S.C.A.R winners of this year to the audience. The winners received gifts from event-sponsor, as well as a handshake and kisses :-)
Nickolas Dionysopoulos became a winner of several nominations. Also it's hard to miss the special prize that Chad Windnagle have received - it was trousers with a commemorative symbols since, according to Chad's words, he has enough T-Shirts related to Joomla events and another item of clothing would be welcomed :-)
Soon J-Factor has started - kind of Joomla's got talent competition. I was honoured to be one of the four judges (refereeing colleagues were Ana from Brazil, Cliff from the United States and Ulrika from Sweden).
Participants were singing, showing tricks, dancing, rollerblading, executing performance actions and so on. The winner of the contest became Søren Beck Jensen with his song HalleJoomla which literally raised the room and became a hit. Also songs of Danuta Idzik and Crystal Harris were awarded.
Besides of traditional events, J and Beyond became memorable with supporting APOPO project - non-profit organisation that train rats to detect mines and determine the diagnosis of tuberculosis patients, even in the case where the machines does not recognize this disease.
The main area of organisation is African continent. Anyone interested could buy APOPO T-shirt and support the project or make donation. Also Brian Teeman was dressed with sapper equipment in support of the project.
The second day
The start of the second day was inaugurated with the keynote "The Dynamic and Complicated Online Threats (Challenges Website Owners Face)" by Tony Perez. He spoke about difficulties that end-user reaches browsing the website. Next step I went to watch Carlos Cámara's session "Building a Complete Conference or Event Site". Carlos talked about how to create a website dedicated to a specific event with minimal losses for you.
Also I'd like to highlight "Work Smarter, Not Harder! - Optimizing workflows in Front-end development!" session that should be interested to front-end developers. Workflow optimisation, using modern techniques as SAAS, tips and tricks that can be used during template development. It was a surprise to see three persons that were responsible for this session: Bo Foght, Hans Henrik Christensen, Jerry Christiansen (RedWeb inc. representatives).
The next session I visited was dedicated to site's speed-up and increasing its performance: "The Speed of your site is the speed of your business" by Robert Castley. The author examined in details the methods that you can use to achieve the best result with page generation and minimize queries to the server within your Joomla website. This is a very actual subject and I hope that web-developers will pay close attention to it, because, as you know, a good website cannot be built from constructor cubes and it requires very hard work and lot of time to get the best result, after which the performance of website will be drastically improved, and Robert was talking about it just for nearly an hour.

After the dinner it was a time for another keynote - "Code Manifesto" by Kayla Daniels, after which a fascinating part "Make it Happen" has begun: different working groups were formed and dedicated to various parts of work. The main goal was the improvement of Joomla CMS.
The participants have formed the groups of like-minded persons and went to the rooms where each person has an opportunity to say something on the subject of discussion and suggest ideas for further improvement or decision. It's kind of brainstorm. I must note that such meetings are very useful since they help with solving questions and issues that were in "on hold" status during long time, secondly, meetings greatly help with Joomla development. The second part of the day was mostly devoted to the Working Groups which is right, I guess.
Next the event gradually turned into the afterparty and tired but happy Joomlers continued communication in an informal atmosphere.
The day ended with a nice grill dinner, which turned into easy communication of persons with each other and one of the main principles of J&B has been triggered: no one will be dining alone, no one will be ignored. So it turned out that people were talking animatedly, made jokes, laughed and exchanged contacts as well as discussed on various issues.
I should also note that members of bug squashing group continued programming on their laptops, solving the problems regardless of the "banquet" mood in the hall.
The Third Day
The morning began with a keynote titled as "Joomla! Tomorrow and Beyond" by Jessica Dunbar. After this presentation I went to listen to Radek Suski "Customising Joomla! - Level Expert ", a session which I would like to highlight, as I really liked the subject. Radek told how js files can be compiled into one file (the same applies to css). This report was extra touch to the overall picture, dedicated to the optimization and site's speed-up on Joomla.
After Radek I went to listen to Jessica Dunbar and her session related to site security. Indeed, it is difficult not to agree with the thesis that absolutely safe sites does not exist. It is true, as well as the fact that site owners should keep up with the latest Joomla version and used extensions.
When it was still a few hours of sessions and a final keynote presentation from Nickolas Dionysopoulos "Joomla Hidden Secrets for Developers" which Dmitry was delighted with :-) Nickolas talked about Joomla classes that are seldom-used by third-party developers, as well as a number of methods that can improve the code of your product.
It was time to end the conference. Organisers have a valedictory speech to the audience and sadness on faces was noticeable with the naked eye since people did not want to leave the conference... But good things cannot happen too long, it's time to say: "See you next year friends!" According to Robert, the next J and Beyond 2016 will be held in one of the countries of Southern Europe; which exactly is still a secret.

Conclusion
The general impression I feel after the J and Beyond conference - a sense of delight! Sure, it's because I attended a conference for the first time, however, apart from the emotional side, there is a professional organisation: the event was held in a luxury hotel, the speakers have been provided with necessary equipment, everyone got three meals per day and some free beer during the afterparty and there was a comfortable environment for the establishment of business relationships and companionship. The Conference visited 224 people, covering 34 countries. I believe that the mission of J and Beyond is completed on 100%.
I would like to express my gratitude to the organizers of J & Beyond in 2015 in the face of Robert Deutz, Brian Teeman and all J&B team, first of all, for the opportunity for me to go to this wonderful event, and secondly, for their professionalism and high level of organization. Thanks for your contribution to Joomla!
I would also like to thank Dmitry Rekun, with whom we represented Russian Joomla community, and to all the people with whom I was able to make friendship and meet in person! Viktor Vogel, Gerald Martin, Radek Suski, Mikhael Vinnik (Germany), Peter Martin, Jisse Reitsma, Peter van Western (The Netherlands), Danuta Idzik, Darek Snieg, Justyna Michallek, Michal Trepizur (Poland), Matias Greise (Finland), Ana Barcellos, Ariadne Pinheiro (Brazil), the Octopoos team & co (France), Javier Gomez (Spain), as well as many other people we had a great time with. You know your names! :-)
See you at next event, friends!
Photos were takes from collections of Dmitry Rekun, Radek Suski, Ariadne Pinheiro, Danuta Idzik and from my personal collection. HalleJoomla video was recorded by Octopoos team.
Useful links: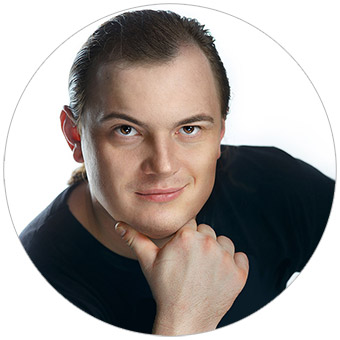 About author
Eugene has been a part of and worked in many of the web development roles over the years, taking on various projects. At the present moment, he is involved as a team manager working inside his personal projects. This blog is specifically dedicated to start-up businesses, team management, and how to maximize your success with Open Source ideology.