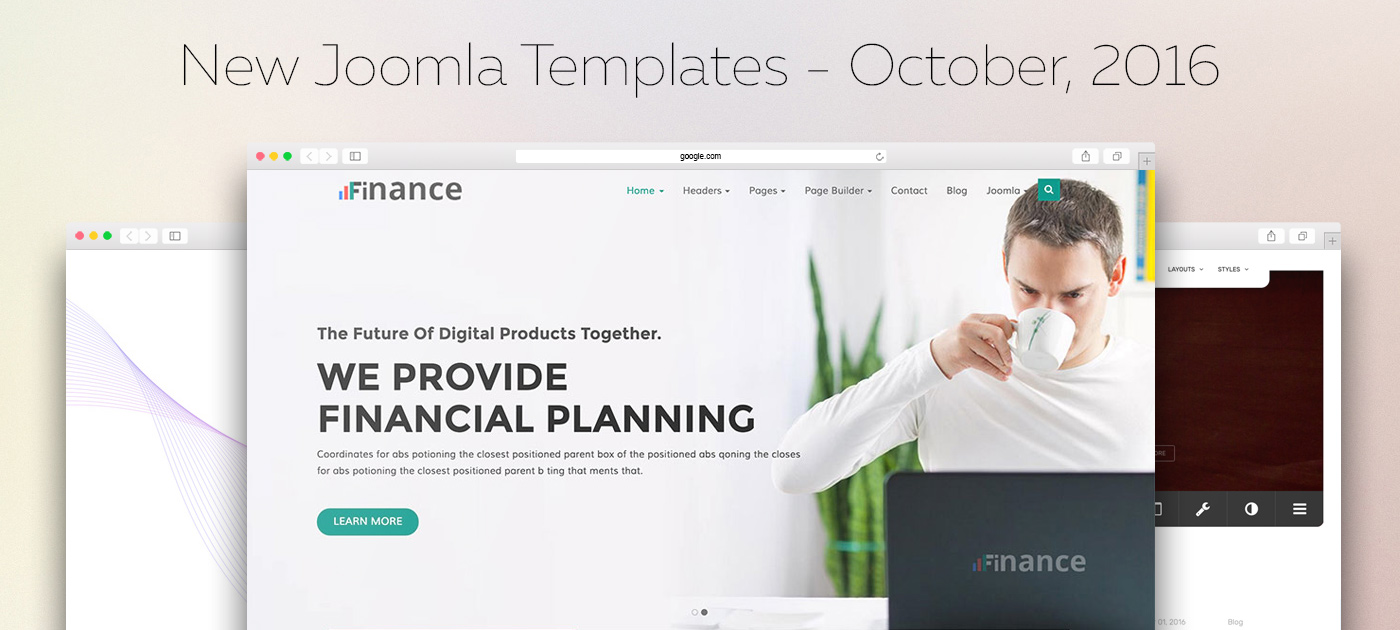 New Joomla Templates - October, 2016
Building the sites for clients requires a developer to be in trend and use modern and great looking themes to meet clients' expectations and provide best results. Here is short overview of new Joomla templates that recently have been appeared on Joomla marketplace and is worth of attention.
So, lets start.
YOOtheme Pro - a site builder
Working with Joomla you had to hear YOOtheme name - it's popular studio from Germany which have been developing themes for Wordpress and Joomla since 2007 and have released revolutionary products as ZOO CCK, Warp framework and Uikit framework. After a year of hard work, the team have surprised their fans by announcing a brand new product called YOOtheme Pro which has been formed as a logical result of developing Warp framework 8, clients' support and feature requests according to modern web trends.
What is the YOOtheme Pro? It is more than a framework, but a website builder with all-in-one features. It gives you wide rage of features for flexible customization and let to control every element of the site. It's a powerful tool to manage and build web pages as bricks and finally alllows to build a great looking website with minimum of time.
The product is yet not public, but is available as a part of Fuse template where it is used first time. Have a look at YOOtheme Pro landing page on the link below.
---
Fuse Template based on YOOtheme Pro
The first theme based on YOOtheme Pro site builder to build modular pages. Fuse templates comes with Minimal style and brings 8 prebuilt page layouts to create corporate or personal site. The design is focused on photo elements and has a gracious typography according to modern trends. An image-building design to introduce your hobby or services.
---
Finance Template by Themexpert
Are you looking for a template to build consulting, financial or agency website? Here is nice fresh solution that provides modern and responsive design with dynamic effects, parallax and so on. Using the power of Quix Pagebuilder it is easy to built a site using drag'n'drop interface to build custom pages. This template has 5 colorful headers and 8 pre-defined page layouts. There is a new chart element to visualize data and integration to DigiCom and J2Store extensions.
---
Protean - multi-purpose template by RocketTheme
Multi-purpose template from RocketTheme that comes with modern design and various pages layout making it perfect to use on product showcases, brand sites and start-ups. Protean is based on Gantry 5 framework and have different presents to meet design requests. Btw, the template is still have 30% off.
---
Kavin - Personal Blog Joomla Template
A creative and clean template with big design elements, contrast colors and user friendly interface is ready to be used on personal page or for blogging. Kavin is designed using Plazart framework which is built with Bootstrap 3 and Joomla 3.6 ready. The template comes with carious versions of Home page as well as provide styles for About us, Travelling, the Gallery and Contact us page to give you full ability to build a site that has a highlight.
---
Doctor - Medical Clinic Joomla Template
Based on Helix 3 framework, this template from Joomshaper is designed for medical centers and can be used for doctor, clinic or even beauty & fitness sites. Light colors, awesome layouts and fully responsive design that can be customized according to your needs: there are 4 colour presets and also 4 page variations. SP Page Builder Pro comes as a part of this template that help you to construct pages with simply Drag-and-Drop interface.
---
JA Restaraunt - Responsive Restaurant Joomla template
Fresh template from Joomlart with dedicated Restaraunt conception designed with love. JA Restaraunt is based on T3 framework and includes various prebuilt page layouts for Restaraunt Menu with Reservation feature as well as Gallery, Offers and About Us pages. The template has MegaMenu builder, RTL support and other features.
---
Newscorp - News Magazine Portal Template
A clean template for magazine or portal from YouJoomla designed with Yj Simple Grid Template Framework. There are flexible settings and module grid that let you to combine colours, customize pages and put advertisement banners everywhere. Newscorp support K2 extension and includes various extension as in-built part of the template.
---
JM JoomAdvertising - Classifieds Joomla Template
Using JM JoomAdvertising template you can build an awesome classfieds or even auction site. It is developed specially to help you organize an environment for portal: it comes with clean and contrast design and work natively with DJ-classifieds extension as well as comes with special module to search the classifieds by location. Start selling stuff and give site users an ability to sell via your site based on JM JoomAdvertising. The template is made by Joomla Monster with EF4 Framework.
---
Finance - Business Joomla Template
A modern template with responsive design which is perfect for buidling financial or business website. Based on T3 framework, Finance has flexible settings, lot of color variations and 5 predefined home pages as well as various header sets. It is nice for quick building of corporate site or personal blog.
---
Vina Moxii - Responsive Fashion VirtueMart Template
Awesome design for e-commerce sites is a key moment for successful business since it is forming positive image of your company and increases selling rates. That's why design is always important. Vina Moxii combines popular Joomla framework called Helix 3 and Virtuemart as a e-commerce solution. The template comes with various in-built extensions and has lot of settings and provides the following features: Product Compare and Wishlist, One Page Checkout and other great add-ons as Ajax filter. Vina Moxii is a good choice if you decided to build a site with Virtuemart.
---
Emma and Mason - Joomla Template by Shape5
A wedding template from one of the most largest and awesome US-based template providers - Shape5. Emma and Mason is designed for sites dedicated to wedding or to a special event of a couple. The template is based on Vertex framework and express modern approach to the design: responsive design, flexible layouts and tons of settings to configure the template according to your needs. There are related extensions included to the distributive pack. Emma and Mason is a perfect choice to showcase the memorable event.
---
Portfolio App for ZOO CCK
This is yet not a standard template, but functional App for popular ZOO Content Construction Kit that extends personal site and let you to organise great looking portfolio with dynamic effects and user friendly interface. Portfolio App has fully responsive design and comes with two templates making the App compatible to Bootstrap and Uikit.
This is 2nd App for ZOO released by RoundTheme team which is focused on providing templates and add-ons for 3rd party Joomla extensions. Portfolio App distributive pack includes additional elements and a quickstart.
---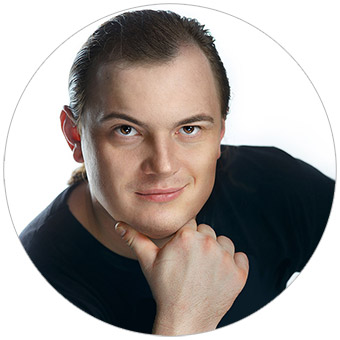 About author
Eugene has been a part of and worked in many of the web development roles over the years, taking on various projects. At the present moment, he is involved as a team manager working inside his personal projects. This blog is specifically dedicated to start-up businesses, team management, and how to maximize your success with Open Source ideology.